Paragraphs
What perspectives does your future have?
The optimal first step into an exciting world of work.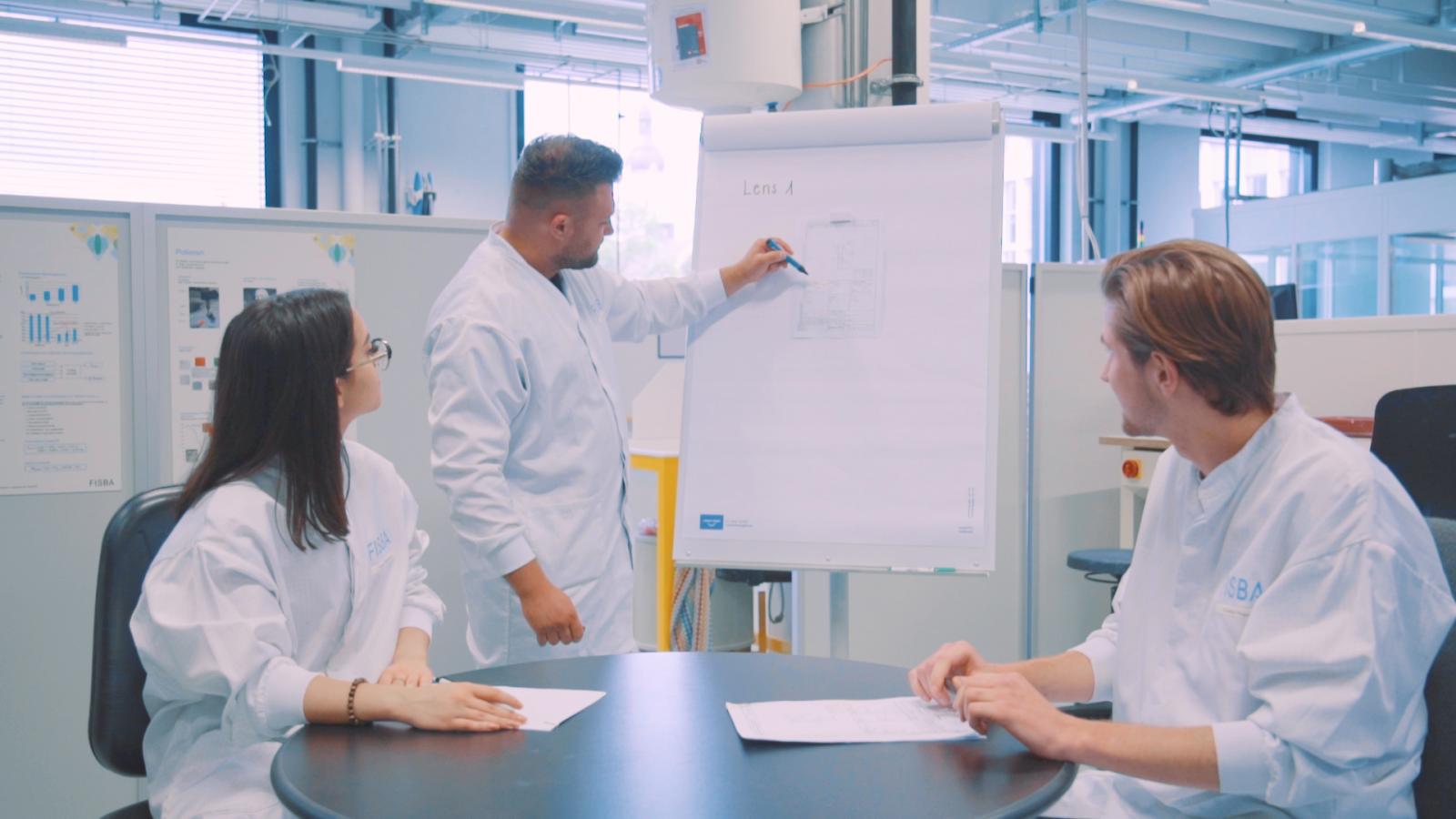 Yousty & FISBA AG
Start your vocational training with us!
When you complete an apprenticeship with FISBA, you get to meet a lot of new people. We have over 300 employees. When you work with us, you get to meet the whole world because we have offices and customers throughout the globe. And when you do well with your training, there are many career opportunities open to you. With us, you are equipped for the future.
Our Apprenticeships
We offer excellent training in four career paths and help you take your first steps into working life. Our enthusiastic trainers show you the way because they, themselves, are enthused by what they do. 
Find out more here about our career information days, trial apprenticeships and our current range of apprenticeships. If, afterwards, you still feel like this is your ideal training, make sure to submit your application to us.
Use our videos to find out which career suits you best. 
Precision Optical Technician – Swiss Federal Certificate of Competence (EFZ)
Are you interested in the science of light? Do you want to know what products are made out of glass? Do you love precision work with modern CNC machines and are you also good with your hands? Then you might like a career as a Precision Optical Technician (EFZ).
Machinist – Swiss Federal Vocational Certificate (EBA)
Do you enjoy working with your hands? Can you imagine producing small, precision lenses and prisms out of glass? Are you interested in CNC processing, i.e. working with machines? As a Glass Machinist (EBA), you'll find your calling.
Design Engineer – Swiss Federal Certificate of Competence (EFZ) 
Do you want to work with our engineers to realize ideas that then become products later used by lots of people every day? Can you imagine designing components and modules for devices and production plants, drawing designs by computer and preparing technical documents? As a Design Engineer, you can make a big contribution to the life sciences, industrial, defense and &aerospace sectors.
Physics Lab Technician—Swiss Federal Certificate of Competence (EFZ)
Are you interested in working in research and development in the future? Does the thought of developing processes for measuring and inspecting optical components and systems appeal to you? If so, maybe Physics Lab Technician (EFZ) might be the right career for you. 
If you are interested in one of these apprenticeships and you also have the required skills, we look forward to receiving your application with the following documents:
Cover Letter with Photo

Resume

High School Certificate

Suitability Test from Multi-Check or Stellwerk
If all the requirements are met, we will invite you for a trial apprenticeship. Then you can see whether the apprenticeship and the company are really for you.

We look forward to hearing from you.
Current Apprenticeships
We look forward to receiving your application!
Get to know us in person 
You will have the opportunity to talk with us at the following events.